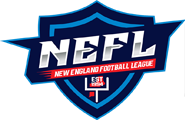 We play in the New England Football L​​eague (NEFL). The New England Football League is a nonprofit organization, established in 1994, to provide men, eighteen years of age and older, the opportunity to play full contact amateur football in a controlled, organized and structured environment at various levels of skill while being neither exclusionary nor discriminatory towards any person or persons wishing to participate. It is recognized by the NCAA as a true amateur adult football league, meaning college eligibility is not lost by playing in the NEFL.


The New England Football League games are played under NCAA rules with certain modified rules to further enhance play. Since it's humble beginnings in 1994, NEFL has become one of the largest, most successful and competitive semi-pro, minor football leagues in the United States.


We have been members of the NEFL for 15 years. In the 2021 season the Ravens received 3 of the 4 league awards: Offensive Player of the Year, Organization of the Year and Coaching Staff of the the Year.​​